Hypnosis for Kickboxing (K1) - Helping Jessy Win His First Fight
19/11/2013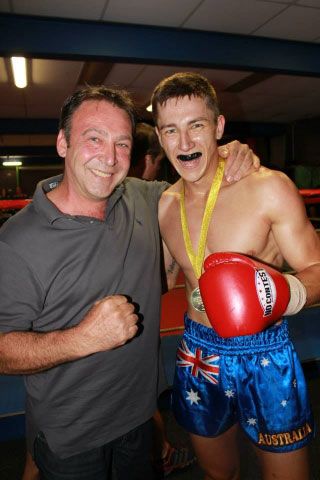 Last week my young mate Jessy won his first K1 Kickboxing fight - quite convincingly too - well done! For the past 4-5 weeks I had been using hypnosis to help him prepare for the fight and enhance his mental approach in the ring. Jessy is a young fighter at my good friend Ian Jacobs' gym here in Brisbane called Powerhouse NRG - http://www.powerhousenrg.com.au/. I have known Ian for many years and have helped him with hypnosis for his own fighting career too. Ian did pretty well with 3 world championships and is still considered by most to be Australia's best ever 'pound for pound' Kickboxer & Muay Thai fighter of all time. Ian is also an official endorsee for my Hypnosis for Martial Arts MP3 here which he helped develop with me.
When I first met Jessy I was actually sparring with him in the ring when I was told he was going to have his first fight. Doing this I noticed his body language was predictable and he would close up on attack. After we finished I suggested that I could help him to become more natural and unpredictable and to switch him on as a fighter. He was excited so we began soon after. With this excellent result in mind I thought this is a good time to publish some information on how I use hypnosis for martial arts, in particular what we worked on with Jessy...
Working on Eliminating Fear In the Ring
A lot of the fighters I have worked with have a few similar fears:
Fear of getting hurt
Fear of the crowd watching
Fear of letting the trainer, friends and family down by losing
Fear when they are getting attacked to lock up & get overwhelmed by the attack
When it comes to fighting, fear can be your best friend or worst enemy. This applies to all other sports too. Like most fighters they know how to fight and have learnt all the techniques, when to use them, and how to apply them. When it comes to pressure and fear these will make or break you as a fighter. They can inhibit ability as well as performance too! With some fighters pressure & fear will allow them to 'give in' earlier and, when hit by the opponent, feel every punch or kick more than normal. Some will get shocked and lock up, others will 'give in', some will 'turn on' and get started with a fire inside, others will stay calm & become more alert, and some will see it as an opportunity for giving the opponent the false sense of victory and then see the opening and take it. It all depends on the fighter.
My job was to identify Jessy's weakness and fears. The next step was to switch them into strengths & a feeling of excitement by increasing his awareness. Then we went on to helping improve all that he already knew as a fighter like his natural and automatic responses, the aspects of the upcoming fight, and at the same time allow his mind to be still and his subconscious to take over in the ring.
Becoming Switched On & In The Zone
We began working on switching his 'fighter within' to switch on and then get in the zone. This didn't matter whether it was fight time or training time, nothing else mattered, he had a job to do and had to do it completely switched on and in the zone. Most importantly I made sure that this switch only applied to when he was fighting or training - so not other areas of his life because that is not what we wanted :).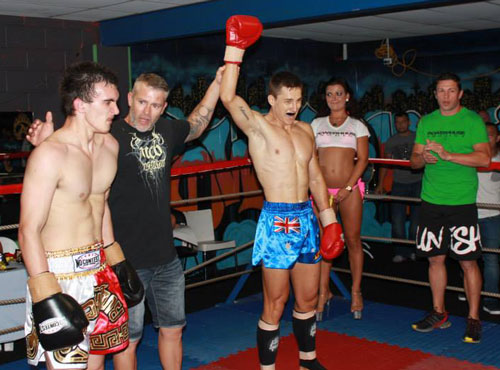 And the winner is... Jessy! Well done mate. Proud trainer Ian Jacobs to the right
After this we worked on his fears. These we removed and transformed into feelings of excitement, awareness and an opportunity to spot his opponents weakness, fears, and flaws making them predictable. We then worked on his defense, counter-attacks, foot work, distance and timing by allowing all that he had previously learnt to become natural and automatic to him. Keeping his already trained ability being sharp and focused and every part of his being to be in perfect rhythm with each other. This included keeping his breathing in rhythm, and using less energy with greater impact. We gave the mind direction and a target to reach which was Victory!
Reinforcing Pre-Learnt Abilities
In some of the sessions we strengthened his body and flexibility through hypnosis. I remember in our second hypnosis session Jessy said to me that it was weird as he had an elbow issue and used to catch colds all the time but after a couple of sessions of hypnosis his elbow pain disappeared and he was feeling healthier. He said he was around his friends and that they were sick over the weekend and it didn't bother him like it used to and he didn't get sick. It was at this moment I knew his subconscious was complying with everything we were working on and was fully on board. It continued from there as Jessy's excitement grew more and more. He started dreaming that he had won the fight and by the 4th session he said it has all come together. He noticed that all we had worked on clicked in feeling natural and automatic. He was training harder, more focused, faster, and with more energy. He actually said to me just before fight night "I am calm and excited, it is strange" I said, "Perfect you will understand why, because your subconscious is in control now."
The Fight & The Results...
The fight went how we expected it to go. I was very proud and happy with Jessy's performance; how he was in the zone and completely switched on, how he got in the ring did his job. 28 seconds into the second round the opponent threw in the towel after being knocked down and saved by the bell in the first round. Jessy had won the fight and as his hand was lifted he automatically 'switched off' Just after this he came to me and said "I can't remember the fight". I said, "that's because you don't fight consciously you fight subconsciously and you did exactly what was required to win." I think this is the essence of how hypnosis really helps fighters of any type.
If you are a fighter and would like to try out some of the same techniques, please view my Hypnosis for Martial Arts MP3 here. If you are in Brisbane or even interstate (by appointment) we could look at doing some 'one on one' hypnosis sessions like I did with Jessy - details are on my Personal Consultation page here.
I hope this article has shed some light on how we use hypnosis for fighting sports, and I look forward to working more with Jessy and helping realize his full potential in the world of Kickboxing.