The Rhythm of Life & Change
03/07/2013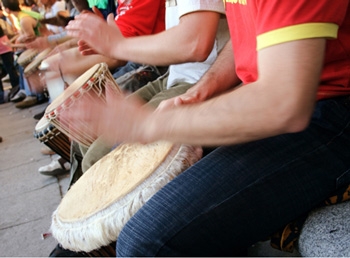 I was thinking this week about music, particularly the drums, and how it imitates life in many ways. Music can be happy, sad, fast, slow, structured, unstructured, in time and sometimes not in time - just as life can be all these too.
In music it is the drums that provide the rhythm and the direction for the song, pushing it forward to new places. In life it is our own internal rhythm that pushes us forward and changes our own direction. Just like music, if our own internal rhythm is not in synch will all other parts of our life, than everything will be out of time.
This is very important to note when it comes time to make a change, as it is all about flowing to a new rhythm. It is literally about changing vibrational frequency in thought and action to support these changes. It is one thing to have a thought of change, but a completely other different thing to put it into action and live it.
Imagine the best band in the world who has played the same style of music for years. When it comes time for them to change their style, it will be hard at first because all the members are used to playing the same type of music. Initially things will get out of time, as the members learn how to fulfill their new roles within the new music. But after time, the drummer will lock into the new groove, followed by the bass, guitar, singer and other band members, and everything will eventually flow effortlessly.
This is exactly the same when we try to make significant changes to our own life. We have to make sure that we are in synch with the changes on every level. We have to make sure our own rhythm is flowing at the right speed in the right direction to unite all parts of us towards making that change. Imagine that you a drum. What speed are you beating at? Are you beating in a sombre mood or a happy one? Are you in time with the people around you and most importantly yourself?
Thanks for reading this, and like I always say... 'Flow with the rhythm of your life'.
- Giovanni Lordi