Giovanni Lordi - Australian Hypnotist, Author & Hypnosis MP3s/CDs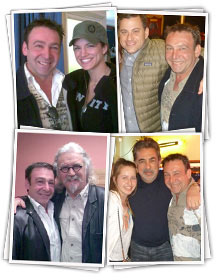 Welcome & thanks for visiting my website. I am an Australian hypnotherapist based in Brisbane, Australia. Hypnosis is my passion, my life, my career, my hobby, and my gift to share with the world. I have been very fortunate to have been able to share with this with a wider audience all around the globe. My life's goal is to push the boundaries of what are all capable of achieving.
On my site you will find a large collection of resources including my hypnosis mp3s & CDs, articles, media interviews, and videos. I am the proud author of more than 100 hypnotherapy downloads & CDs, the book 'The ToolBox 4 Life' and the iTunes & Android 'Hypnosis Mega Apps'. It has given me great satisfaction knowing I have been able to record these moments in time, put them on a format that people can easily access, and have been able to change so many lives for the better. This gives me great satisfaction & helps me continue developing new ways to help.
One of the greatest highlights of my career as a hypnotist was speaking to over 1 million people on Coast to Coast AM radio. This was a great way to not only feature my own work, but for hypnosis in general. I have also been part of many other radio interviews and live teleseminars which you may have heard me on. Enjoy the site & please contact me here if you any questions.
Latest Blogs & Articles
| | |
| --- | --- |
| Last week my young mate Jessy won his first K1 Kickboxing fight - quite convincingly too - well d... | Everything you need to know about brainwave entrainment - what it is, how it works, methods (bina... |