Giovanni Lordi - Australian Hypnotherapist & Author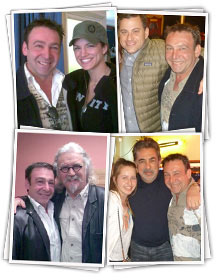 Never one to shy away from a challenge, Giovanni has spent his life doing amazing things. Since 2003 Giovanni's passion has always been to push the boundaries of what hypnosis is considered capable of achieving. As a hypnotherapist he has helped people overcome all types of issues & developmental areas. Giovanni is the first to acknowledge that the real star is hypnosis, and he simply uses this amazing modality in special ways to help others. However, it is the way in which Giovanni draws upon his life experiences, knowledge and especially common sense, that has seen him rise to the top of his field.
Giovanni's impact has touched the lives of so many people. Aside from his personal sessions with clients, Giovanni has produced more than 100 recorded hypnosis programs, is the author of the book The ToolBox 4 Life and has developed the popular Hypnosis Mega App. He has dedicated his life's journey to sharing the immense benefits hypnotherapy can bring to a wider audience. Doing so has bought Giovanni much passion, fulfillment and the happiness of being able to significantly help people.